Premium
Access
1
premium
page views
remaining
AIRCRAFT
Gulfstream GV
See other Long range and large jets
31 Charter operators 103 Maintenance centres 6 ATO training organisations
Free INDEX report
Download our free 17-page Index report
on the Gulfstream GV
Please log in to gain free access to this download.
If you do not have a login, then please fill out our signup form and we'll provide details.
Overview
The Gulfstream V is an ultra-long-range business jet produced by Gulfstream Aerospace in response to Bombardier's Global Express.
Preparations for the GV started around October 1991. The BR710 engines were confirmed in September 1992, and risk-sharing agreements with wing designers/manufacturers Vought and ShinMaywa were announced at the Paris Air Show in June 1993, and with tail manufacturer Fokker at the NBAA in Atlanta in September 1993.
Based on the GIV, the horizontal tail area is 30 per cent larger, wingspan is increased from 74.6 ft to 93.5 ft, the fuselage is lengthened by five ft forward of the main entry door, and by two ft aft of the wing. Maximum take off and landing weights are increased by 15 per cent. Its semi supercritical wing gives increased fuel capacity over the GIV.
The first prototype was rolled out on 22 September, 1995 and made its first flight on 28 November that year. A second aircraft was used as a structural test article before its completion as company demonstrator. A third was first flown on 10 March, 1996 and used for systems testing while a fourth first flew in May 1996 for engine, flight loads and environmental trials and JAA certification testing. A fifth prototype, first flown in August 1996, was outfitted in standard production configuration for operational testing and HIRF (High Intensity Radiated Field) evaluation. The second prototype made its public debut at the NBAA in Orlando in November 1996.
The FAA granted provisional certification on 16 December, 1996 after more than 1,100 hours of flight testing across 550 sorties. Full FAA certification (an extension of Gulfstream II) was granted on 11 April, 1997 and the FAA production certificate was awarded on 11 June. The first fully completed aircraft was delivered to a customer on 1 July, 1997.
193 GVs were manufactured between 1995 and 2002.
Specifications
Typical passenger capacity: 13
Range: 6,250 nm (full seats) 6,675 nm (ferry)
Cruise speed: 488 kts
Cabin height: 6.08 ft
Cabin width: 7.25 ft
Cabin length: 50.08 ft
Cabin volume: 1,943 cu ft
Active fleet worldwide: 189
Available for charter worldwide: 55
Typical price: $985,000 to $11,250,000 pre-owned.
Production dates: 1996 - 2002

Includes GV-SP

Engines: Rolls-Royce BR700-710 Series
Charter operators
| | |
| --- | --- |
| Argentina | Flyzar |
| Mexico | Aerovics , ARE Aviation , Commander Mexicana , Transportes Aereos Tauro |
| Saudi Arabia | NasJet |
| Thailand | MJets |
| U.S.A. | Aircraft Transport Service , Alerion Aviation , Cirrus Aviation Services , Clay Lacy Aviation , Cove Aviation Partners , Dumont Jets , ExcelAire - a Hawthorne Company , Executive Fliteways , Global Air Charters , Global Aviation , Jet Edge International , Journey Aviation , Lyon Aviation , Mira Vista Aviation , Paradigm Jet Management , Pegasus Elite Aviation , Planet Nine Private Air , Prime Jet , Silver Air Private Jets , STA Jets , Starjet , Talon Air , Trans-Exec Air Service , Wing Aviation Charter Services |
Maintenance centres
Completions centres
| | |
| --- | --- |
| Canada | Flying Colours Corp. |
| Switzerland | Jet Aviation Basel , Jet Aviation Geneva |
| U.K. | JetMS Completions |
| U.S.A. | Airovation Interior Restyling , Akridge Aircraft Interiors , Capital Aviation , Constant Aviation , Flex Aero Painting and Interior , Flying Colours Corp. , Global Aircraft Interiors , Gulfstream Aerospace (Appleton) , Gulfstream Aerospace (Brunswick) , Gulfstream Aerospace (Savannah) , Gulfstream Aerospace (St Louis) , International Jet Interiors , King Aerospace Commercial Corporation , PrivateSky Aviation Services , Threshold Aviation Group , West Star Aviation , West Star Aviation , Western Aircraft |
Type rating training providers
News from Business Air News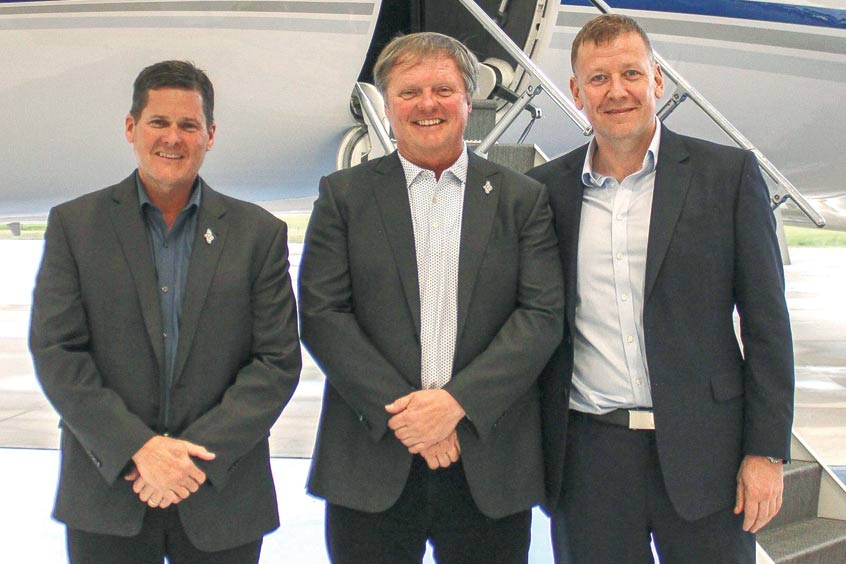 Customer installations take off on SD's Plane Simple antenna system
April 11, 2022
Satcom Direct has received its first FAA STCs for multiple Gulfstream models and EASA has approved a first STC for specified Globals. In-service evaluations are under way with the Intelsat FlexExec network.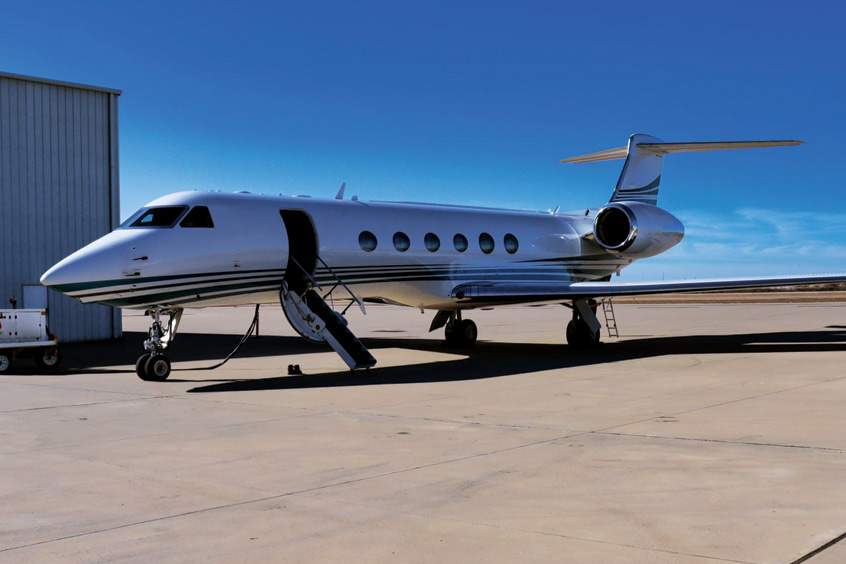 Trimec Aviation installs Venue on Gulfstream GV
December 21, 2021
Trimec has installed Collins' Venue cabin management system for a Texas client. The touch screen controls cabin functions in the GV aircraft and can be linked to passengers' own devices.
Charter-ready Gulfstream V joins the Dumont ranks
May 10, 2021
A Gulfstream GV will join Dumont Jets' fleet after a complete interior refurbishment and installation of a Collins Venue cabin management system at Dumont's MRO facility in Bloomington, Illinois. It is a timely acquisition.
Gulfstream jets to benefit from True Blue inverters
May 10, 2021
Press Releases
Sorry, no company press releases. Please use our Feedback form to advise us.
To advise us of any errors or omissions on this page, please use our
Feedback form
.