FBO/Handler
Million Air El Paso
(FBO)
Company data
Why is this data obscured?
Telephone:

●●●●●●●●●●

Fax:

●●●●●●●●●●

Email:

●●●●●●●●●●

Web:

●●●●●●●●●●

●●●●●●●●●●

●●●●●●●●●●
Ops Hours:

●●●●●●●●●●

SITA:
Co. Frequency:
IS-BAH status:
Airport location
Why is this data obscured?
Also at 35 other locations: Rome (Griffiss International), St George Municipal, Tallahassee International, Toronto (Buttonville), Topeka (Forbes Field), St Louis (Spirit of St Louis), Richmond International, Houston (William P Hobby), Dallas (Addison), Burbank (Bob Hope), Tucson International, Yuma International, Orlando (Sanford International), Lake Charles (Chennault International), White Plains (Westchester County), San Antonio International, Moses Lake (Grant County), Austin (Bergstrom), Bozeman (Yellowstone International), Calgary International, Jacksonville (Cecil), Albany International, Fort Collins-Loveland (Northern Colorado Regional), Kapolei (Kalaeloa), Bay St Louis (Stennis International), Laredo International, Vancouver, Alexandria International, Marathon (Florida Keys), Victorville (S. California Logistics), Indianapolis International, Riverside (March Air Reserve Base), Gulfport (Biloxi International), Syracuse (Hancock International), Birmingham-Shuttlesworth International
News from Business Air News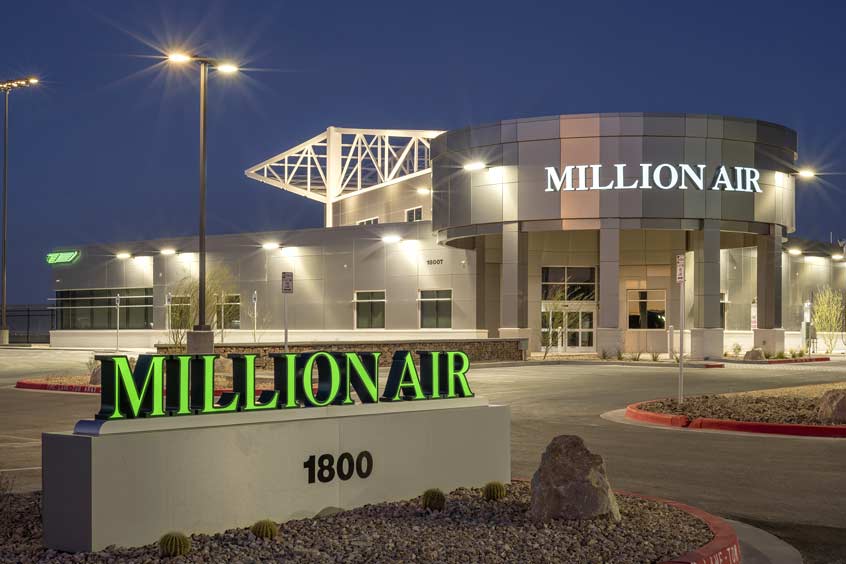 Million Air caters to fuel needs of every client
April 4, 2021
As an Avfuel-branded location, Million Air ELP provides customers with rewards from AVTRIP and competitive prices with Avfuel Contract Fuel. Guests walk in to a 10,000 sq ft lobby featuring southwestern hospitality.
Read the full report
Press Releases
Sorry, no company press releases. Please use our Feedback form to advise us.
Other entries for this company
| | | |
| --- | --- | --- |
| ●●●●●●●●●● | ●●●●●● | ●●●●●●●●●● |
| ●●●●●●●●●● | ●●●●●● | ●●●●●●●●●● |
| ●●●●●●●●●● | ●●●●●● | ●●●●●●● |
| ●●●●●●●●●● | ●●●●●● | ●●●●●●●●●● |
| ●●●●●●●●●● | ●●●●●● | ●●●●●●● |
| ●●●●●●●●●● | ●●●●●● | ●●●●●●●●●● |
| ●●●●●●●●●● | ●●●●●● | ●●●●●●● |