FBO/Handler
Euro Jet Intercontinental
(Agent)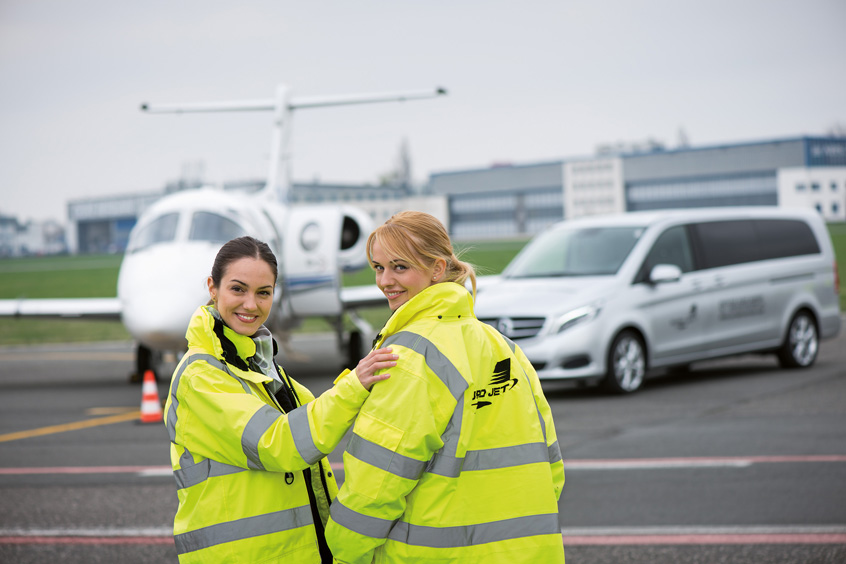 Euro Jet's Tirana location features a team of dedicated agents who will ensure your flight goes perfectly. We can coordinate your handling, fueling, permits, catering, crew hotel and transportation, and provide credit where available. Come let us show you why we are the leading provider of ground support services.
Company data
Ops Hours: 24hrs O/R
SITA: PRGOOCR
Co. Frequency:
IS-BAH status: None
Airport location
Also at 153 other locations: Istanbul (Ataturk), Mogilev, Prague (Vaclav Havel), Balti, Palanga International, Kosice, Quetta (Samungli), Peshawar (Bacha Khan International), Lahore (Allama Iqbal), Karachi (Jinnah International), Islamabad (Benazir Bhutto International), Kunovice, Split (Kastela), Vitebsk, Karaganda (Sary-Arka), Plovdiv, Budapest (Ferenc Liszt International), Sofia, Tallinn, Riga International, Bucharest (Henri Coanda), Belgrade (Nikola Tesla), Ljubljana (Joze Pucnik), Bratislava (M.R. Stefanik), Vilnius International, Kukes International, Warsaw (Modlin), Grodno, Varna, Bourgas, Gorna Oryahovitsa, Debrecen, Brno (Turany), Hradec Kralove, Karlovy Vary, Ostrava (Leos Janacek), Pardubice, Ceske Budejovice, Kaunas International, Siauliai International, Ohrid (St Paul the Apostle), Skopje International, Dubrovnik (Cilipi), Pula, Krk Island (Rijeka), Zadar (Zemunik), Bucharest (Baneasa), Cluj Napoca (Avram Iancu International), Constanta (Mihail Kogalniceanu), Sibiu, Timisoara (Traian Vuia), Piestany, Poprad-Tatry, Nis (Constantine the Great), Podgorica, Pristina (Adem Jashari International), Tivat, Sarajevo, Tuzla, Bishkek (Manas), Yerevan (Zvartnots), Mnichovo Hradiste, Gyumri (Shirak), Ulaanbaatar (Buyant-Ukhaa International), Aktyubinsk (Aliya Moldagulova International), Ashgabat, Iasi, Odesa, Kyiv (Antonov-2), Chernivtsi, Cherkasy, Zilina, Radom-Sadkow, Lublin, Bydgoszcz (I.J. Paderewski), Prague (Vodochody), Suceava (Stefan cel Mare), Gomel, Szczecin (Goleniow), Kutaisi (Kopitnari), Dushanbe, Baku (Heydar Aliyev International), Minsk National, Brest, Banja Luka, Mostar, Plovdiv (Graf Ignatievo South), Osijek (Klisa), Brac Island, Varazdin, Zagreb, Tbilisi (Lochini), Batumi International, Balaton (Heviz), Almaty International, Nursultan (Nursultan Nazarbayev International), Aktau, Atyrau, Osh, Chisinau, Warsaw (Frederic Chopin), Krakow (Balice JP II Intl), Poznan (Lawica), Gdansk (Lech Walesa), Lodz (Wladyslaw Reymont/Central Poland), Rzeszow (Jasionka), Wroclaw (Nicolaus Copernicus), Katowice (Pyrzowice), Arad, Bacau (George Enescu International), Baia Mare (Baia Mare International), Caransebes, Craiova, Oradea, Satu Mare, Tulcea (Cataloi), Vidrasau (Transilvania Targu Mures), Sliac, Maribor (Edvard Rusjan), Portoroz, Kyiv (Boryspil), Dnipropetrovsk, Zaporizhzhia (Mokraya), Kryvyi Rih (Lozuvatka), Kharkiv (Osnova), Kyiv (Igor Sikorsky Kyiv International/Zhulyany), Ivano-Frankivs'k, Lviv (Danylo Halytskyi International), Uzhhorod, Vinnitsa, Tashkent (Islam Karimov International), Ankara (Esenboga), Milas (Bodrum), Izmir (Adnan Menderes), Istanbul (Sabiha Gokcen), Mugla (Dalaman), Antalya, Hatay, Adana, Trabzon, Erzurum, Samsun (Carsamba), Konya AB, Kayseri (Erkilet AB), Diyarbakir, Sanliurfa (Gap International), Adiyaman, Gyor (Gyor-Per), Shymkent International, Brasov-Ghimbav International, Mary, Turkmenbashi International, Samarkand
News from Business Air News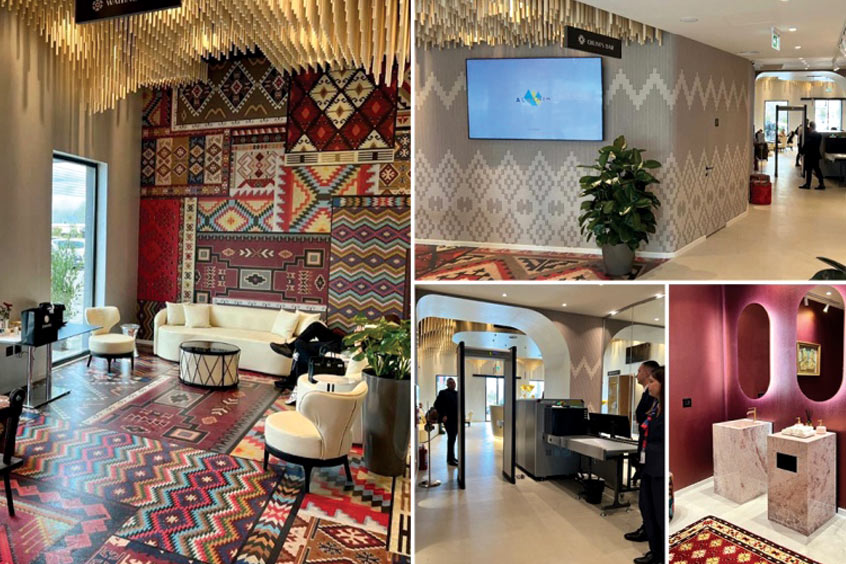 Tirana airport has new general aviation terminal
April 17, 2022
The new GAT at Tirana airport offers an exclusive lounge, VIP meeting room, cigar room, shopping area and waiting area. You don't have to use it, passengers and crew can also pass through the main terminal.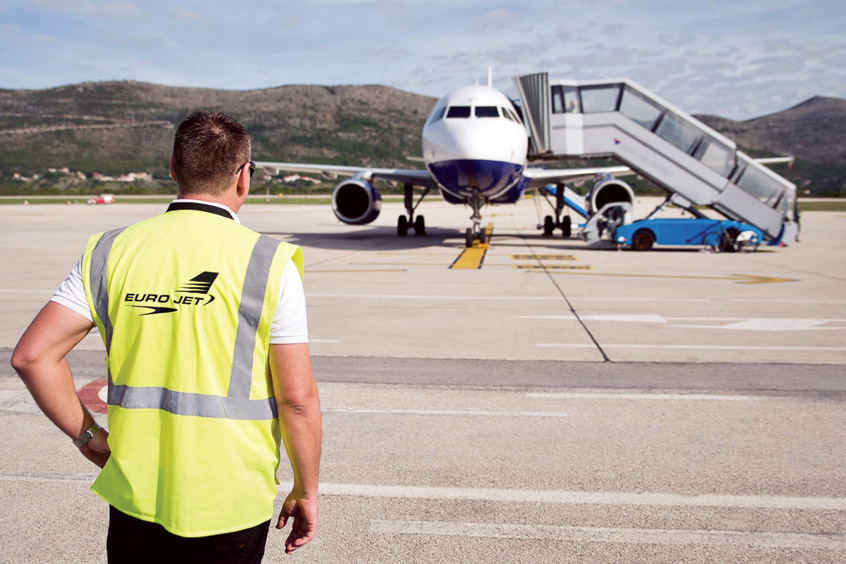 Euro Jet gears up for a return to summer travel
May 31, 2021
Euro Jet has continued to expand its ground support network by opening new complimentary crew lounges including a new office in Split, Croatia. It has a good handle on all of the airports surrounding the Adriatic.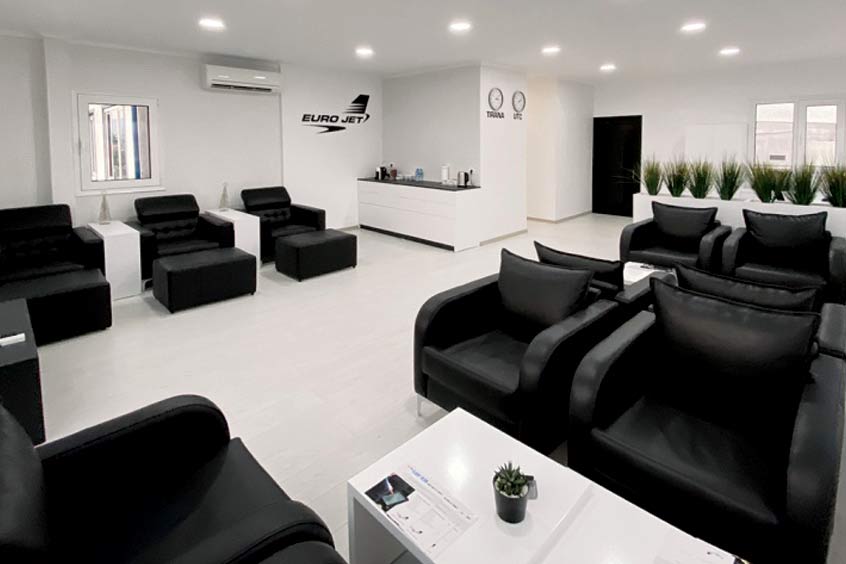 Euro Jet maps out an ambitious year of expansion
February 29, 2020
In 2020, Euro Jet plans to open three new facilities. This includes a refurbished crew lounge at Franjo Tudman Airport in Zagreb, Croatia; a new office at Pristina in Kosovo, and a crew facility at Boryspil in Kiev, Ukraine.
Press Releases
Sorry, no company press releases. Please use our Feedback form to advise us.
Other entries for this company
| | | |
| --- | --- | --- |
| ●●●●●●●●●● | ●●●●●●●●●● | ●●●●●●●●●● |