FBO/Handler
Consorcio Aviation
(Agent)
Company data
Why is this data obscured?
Telephone:

●●●●●●●●●●

Fax:

●●●●●●●●●●

Email:

●●●●●●●●●●

Web:

●●●●●●●●●●

●●●●●●●●●●

●●●●●●●●●●
Ops Hours:

●●●●●

SITA:
Co. Frequency:

●●●●●●

IS-BAH status:

●●●●
Airport location
Why is this data obscured?
Also at 67 other locations: Guayaquil (Jose Joaquin de Olmedo), Medellin - Rionegro (Jose Maria Cordova), Tegucigalpa (Toncontin), Acapulco (Gen Juan N Alvarez International), Mar del Plata, Salto (Nueva Hesperides Intl), San Jose (Juan Santamaria), Managua (Augusto Cesar Sandino), Monterrey (Gen Mariano Escobedo International), Guadalajara (Don Miguel Hidalgo Intl), El Calafate (Comandante Armando Tola), Rio de Janeiro (Antonio Carlos Jobim International/Galeao), Mendoza (El Plumerillo), San Juan (Domingo F Sarmiento), Panama City (Marcos A Gelabert), Belo Horizonte (Tancredo Neves), Brasilia, Bahia Solano (Jose Celestino Mutis), Parana (General Justo Jose de Urquiza), Buenos Aires (Aeroparque Jorge Newbery), Iquique (Diego Aracena), Punta del Este (Capitan Curbelo), Cali (Alfonso Bonilla Aragon), Cucuta (Camilo Daza), Havana (Jose Marti), Bariloche (San Carlos de Bariloche), Santa Cruz de la Sierra (Viru Viru), Belem (Val de Caes), Iguazu (Cataratas del Iguazu), Tacna (Col Carlos Ciriani Santa Rosa), Salta , Concepcion (Carriel Sur), Foz Do Iguacu (Cataratas), La Paz (El Alto), Antofagasta (Cerro Moreno), Lima (Jorge Chavez International), Bogota (El Dorado), Temuco (La Araucanía), Varadero (Juan G Gomez), Barranquilla (Ernesto Cortissoz), Sao Paulo (Gov A F Montoro/Guarulhos), Punta Arenas (Carlos Ibanez del Campo), Quito (New Mariscal Sucre International), Arica (Chacalluta), Sao Paulo (Congonhas), Manaus (Eduardo Gomes), Bahia Blanca (Comandante Espora), Porto Alegre (Salgado Filho), Manta (Eloy Alfaro), Ciudad del Este (Guarani International), Trujillo (Capt Carlos Martínez de Pinillos), Ciudad Guyana (Puerto Ordaz/Gen Manuel Carlos Piar), Valencia (Arturo Michelena International), Santiago (Arturo Merino Benitez), Cordoba (Taravella), Ushuaia (Malvinas Argentinas International), Guatemala City (La Aurora), San Salvador (El Salvador), Montevideo (Carrasco Intl), Merida (Manuel Crecencio Rejon), Caracas (Simon Bolivar Intl), Mexico City (Benito Juarez Intl), Puerto Montt (El Tepual), Maracaibo (La Chinita International), La Serena (La Florida), Toluca (Adolfo Lopez Mateos), Cancun
News from Business Air News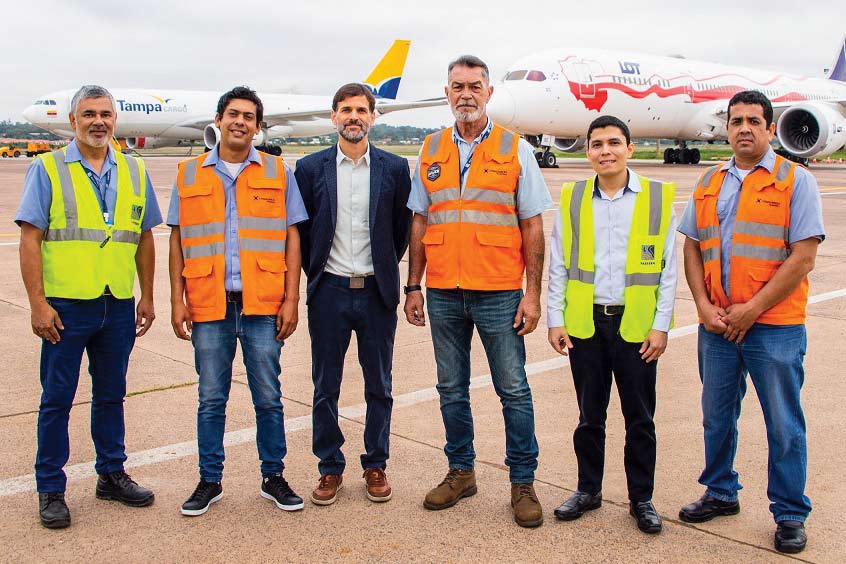 Guatemala and Paraguay FBOs sign up with Universal
August 14, 2022
The addition of Guatemala and Paraguay expands the Universal Aviation network to 29 locations in Latin America and the Caribbean. Burgeoning traffic in the region is expected to keep them all busy.
Read the full report
Press Releases
Sorry, no company press releases. Please use our Feedback form to advise us.
To advise us of any errors or omissions on this page, please use our
Feedback form
.